What Our Clients Say About Us
I have really enjoyed working with Noreen. She has been very responsive, listens to me, and is guiding me on making our home a comfortable reflection of my husband and me. One of the biggest pluses is her willingness to allow me to do as much or as little of the shopping/sourcing as I desire. She has also been on top of my project and makes me feel like my project matters to her. Highly recommend.
Tamra S.
Noreen was excellent with color. She wanted to know my favorite color and then we worked with decor ideas using those color tones. In addition, she was able to use my favorite heirloom pieces and created a transitional style that I was looking for! She is very good in vision and design. She gives her professional advice but wants the customer to be happy most of all! I really enjoyed working with her and I was very pleased with the results!!
Bonnie C.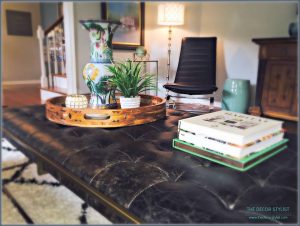 I was so happy to have discovered The Decor Stylist. My husband and I have a good vision in what we would like our home to look like but we are both very indecisive and don't have a good strategy on how to get there. I also second guess many of my bid purchases and paint colors. So, we initially hired Noreen for our guest room. After we discussed a more global picture of what we wanted for the whole house, then we attacked the guest room. Noreen put together an idea board based off of a few key elements that I wanted to keep in the room, which were curtains and a picture. From those two items she emailed me the idea board with descriptions of each element and why she picked them. Each item had a price and where to purchase. This job didn't even need much tweaking. I picked most of her suggestions and I also texted her pics of other ideas and she was easy to say yes or no. I love that aspect of our relationship because often times I just need a second opinion. The guest room turned out wonderful! Noreen also put together an idea board for our house theme. Although we haven't tackled bigger rooms yet, we certainly will be working off her suggestions and I will continue to seek her help in creating our vision. Noreen was curtious, prompt, a great listener, and has wonderful vision. I would refer anyone to her.
moagra
When we first started thinking about redecorating our home, we thought, "let's buy a new couch!" After talking with Noreen and having her walk through our first floor, we discovered a new couch was not what we needed. Noreen asked us lifestyle questions and about future plans. She gave us a plan with different options and showed us her previous work plus a layout of color and ideas. Noreen gave us all her local contractor information, plus she scheduled their visits and managed their needs. What a relief that was. Plus she guided us step by step on accomplishing flooring, wainscoting, iron spindles, and painting before we even chose one piece of furniture. From paint colors on large moveable swatches to hardwood stain to paintings to pillows to plants to pictures, she made our first floor come to life. She encouraged me to see the big picture and now I have a first floor I can see myself and my family in forever. I wanted to relocate to a bigger space and spend much more, but with Noreen's help, we saved ourselves so much time, money and effort. I love our new spaces and her work has made all the difference. Her patience with me and understanding of local resources is amazing. I recommend her for small jobs and large jobs and everything in between.
Stephanie S.